enjoying the chocolate tours at Hotel Chocolat Boucan
Our time on St. Lucia was a week of utter chocolate bliss. As mentioned in the previous post, we had three glorious days at Hotel Chocolat Boucan, a boutique property owned by British chocolatier Hotel Chocolat and situated on the 140-acre Rabot Estate, the island's longest-producing cacao plantation, operational since 1745.
We toured the estate with cocoa production manager, Cuthbert Monroque, who explained that unlike nearby South America, the biggest problem his cacao-growing team has to deal with is rats. Yes, there are so many rats trying to bite into the sweet pulp of the ripening cocoa pods that Monroque has had to establish a rat-drowning regiment to keep things under control. This photo shows how a rat chewed his way into a pod and ate the flesh and cocoa beans from within.
Another challenge for St. Lucian cocoa growers are mushroom spores, which spread the fungus that has been destroying some of the crop. As Rabot Estate is an organic property, no pesticides or fungicides are used.
The resort offers a "Tree to Bean" tour as well as a "Bean to Bar" tour to help chocolate lovers understand how cacao is grown and how the beans are harvested, cleaned, fermented, dried, and processed to make chocolate. We grafted seedlings and put our name on them so that we could return in future and see the cacao tree that we helped create.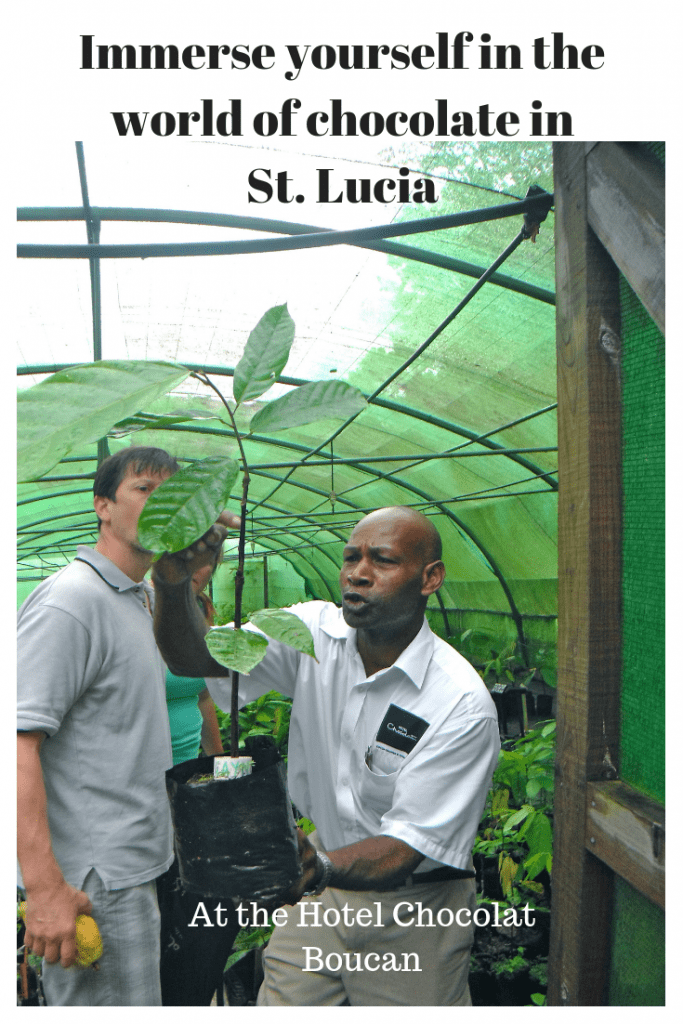 Cuthbert makes a special tea that he uses to fertilize the seedlings, and that, combined with a special manure mixture help make the cacao trees strong and healthy. Grafting the seedlings helps reduce the time it takes for them to bear fruit. In the photo above, Cuthbert shows us how to graft a cacao seedling. Without grafting it may take up to three years for a cacao tree to produce pods. With grafting, that period may be reduced to as little as 18 months.
We ground cocoa nibs with a pestle and mortar and saw them slowly turn into molten chocolate. It was a lot of hard work, but worth it to see the dry cocoa granules slowly turn to cocoa liquor, a liquid form of chocolate that we added cocoa butter and sugar to, resulting in our very own personalized chocolate bar.
I'd highly recommend a visit to Hotel Chocolat Boucan and St. Lucia for any chocolate lover who wants to learn more about the chocolate making and growing process while staying at a luxury resort with amazing cocoa cuisine.
Have you had a chocolate experience like this? Have you ever tried hand-grinding cocoa nibs and making chocolate from it?