Exploring Filoli Garden and Historic House
One of the highlights of my visit to San Mateo County, California, was the Filoli Historic House and Garden. Filoli comprises 654 acres of beautiful property in the rural community of Woodside, just 30 miles south of San Francisco. The house and formal gardens take up 16 of those acres, and most of the rest is in its natural state, with large trees, woodlands, and a nature preserve to inspire you.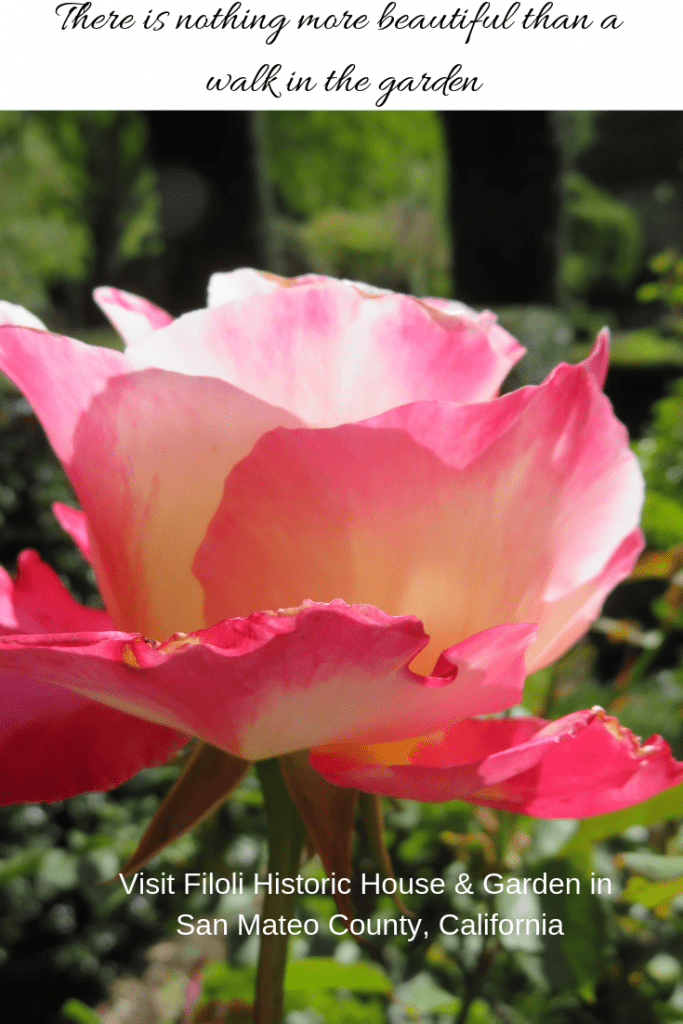 Upon entering the grounds, you are transported back in time to 1915, when American business tycoon William Bowers Bourn II decided to build the country estate of his dreams. The house is 54,00 square feet and has 43 rooms!
filoli garden is a terrific example of an early american renaissance garden
I loved strolling through the various gardens at Filoli, and was lucky enough to have timed my visit to see the roses beginning to bloom. Throughout the long growing season, you will see Filoli Garden transform in waves of tulips, roses, peonies, sweet peas, and much more as each variety takes its turn to be in full bloom. See the Filoli site for details.
In 1975, Filoli was donated by its second owners, the Roth family, to the National Trust for Historic Preservation. A staff of 60 and 700 volunteers help maintain the property and run its many events today. Be sure to stop into the lovely gift shop site before you leave the property, and keep an eye out for Percy, the allusive resident peacock. I saw him foraging among the greenery outside the gift shop, but he refused to pose for a photo!
Pour yourself a cup of coffee or glass of wine and take the 21 minutes to watch this video, and you'll soon be planning a trip to Filoli for yourself. It is the gem of San Mateo County.
SaveSave
SaveSave
SaveSave
SaveSave
SaveSave
SaveSave
SaveSave
SaveSave
SaveSave
SaveSave
SaveSave
SaveSave
SaveSave
SaveSave
SaveSave
SaveSave
SaveSave
SaveSave
SaveSave