Growing cacao in Peru
We left Lima Airport for Tarapoto, our launch point into the Amazon jungle and the cocoa growers of San Martin Province in the San Martin Region of Peru. I didn't know what to expect, but knew we'd be in good hands under the care of Cristina Santillana, International Sales Manager for La Orquidea Chocolate, a division of Industrias Mayo in Tarapoto — just over an hour northeast by air, but truly a world away from the cosmopolitan sophistication of Lima.
Tarapoto is a small Peruvian city that is the gateway to Peru's chocolate industry
Though Tarapoto is a relatively small city of 63,500, the traffic is crazy! But not with automobiles. The motorcycle is king, and from it has spawned the Motokar, a motorcycle cab that can seat up to three (cramped) people. We had loads of fun being jetted around town in the motokars.
From Tarapoto, we took a two-hour cab ride to Juanjui, the port on the Huayabamba River that would get us by a small motorized boat via a four-hour journey over numerous rapids to the Santa Rosa Asociacion de Productores Agropecuarios, the cacao growers who had agreed to host us and show us how they grow, harvest and ferment their cacao.
The Huayabamba is a tributary of the Amazon that would take us a world away from modern civilization to a world of simple farming where everything is done by hand and electricity is limited to brief spurts of power from a small generator. But they did have a shower and a flush toilet we were very pleased to see.
Visiting cacao farmers
What an experience we were fortunate to have! We learned how the farmers' families hand pick the ripened cocoa pods, open them in the fields and remove the cocoa beans from the placenta (the white goop I referred to in this post.) The beans are then fermented, dried and eventually roasted, peeled and crushed before beginning the process that leads them to becoming chocolate. This was the whole purpose of my trip to South America as research for Chocolatour — to see how cocoa is grown and appreciate the labour intensive process of creating the luscious elixir that we have all come to know and love.
The cacao primarily grown by this cooperative at the time of my visit was the CCN51 variety. They also grow some Criollo and a hybrid 96 variety. It is not the very best cacao Peru has to offer, but it is a variety that is more resistant to disease, making it somewhat easier to grow and thereby increasing the sustainability of the cocoa and providing a more stable income for the families.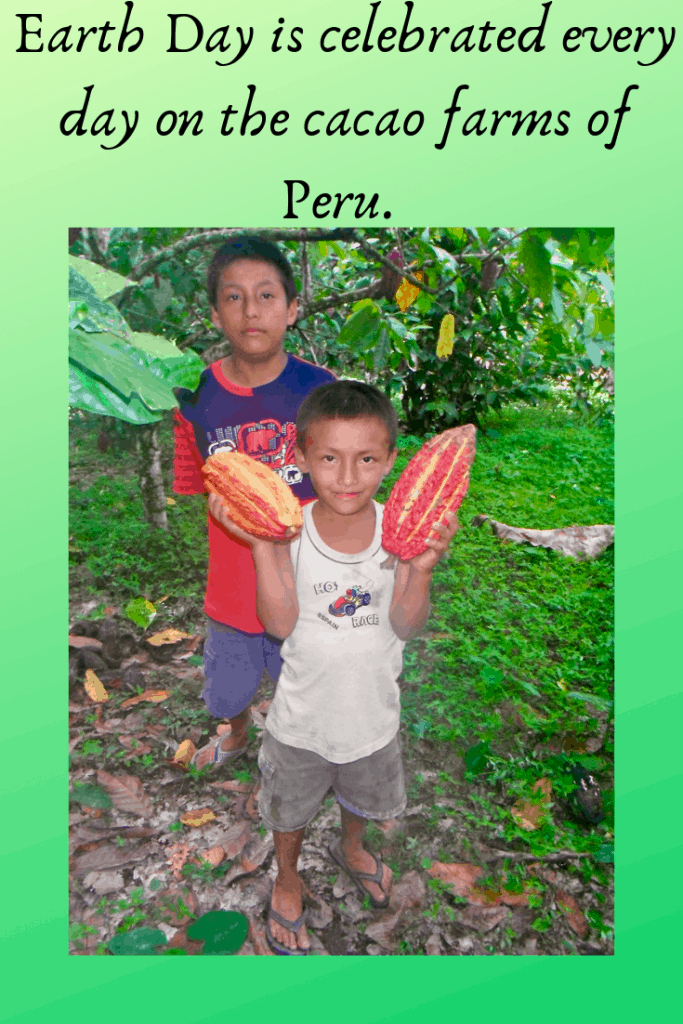 We saw great pride among the farmers and their families. We saw tremendous cooperation among them and we saw a vision for the future in which they will welcome visitors to come and stay in their soon-to-be-built lodge in the botanical garden that they have been planting and nurturing. I look forward to visiting again in a few years, and seeing their dreams become reality.
I welcome your comments on Peru as we celebrate Earth Day and the strength of the Peruvian cocoa farmers.
SaveSave