celebrating more great chocolate from British Columbia, Canada
Handcrafted chocolate is worth celebrating every day of the year, isn't it? Indeed, there are numerous days of the year specifically dedicated to the celebration of chocolate. One of my favourites is World Chocolate Day which is celebrated on July 7th each year, as it salutes the various parts of the world where cacao is grown as well as the countries who do a fine job in making chocolate from it.
In this week's post, I'd like to capture the spirit of summer with some fabulous flavours offered by two of my favourite small batch chocolate makers located in beautiful British Columbia (BC.) We'll sample the robust flavours of Sirene Chocolate based in Victoria (the capital city of BC) and the creativity of Wild Mountain Chocolate based in the mountainous community of Invermere, BC, in the Canadian Rockies. Each of these companies as well as Rogers', the oldest chocolate company in Western Canada, produces socially conscious, sustainable chocolate for your enjoyment.
Sirene Chocolate is the brainchild of Taylor Kennedy, who decided to turn his passion for exotic flavours and exploration into a multi-award winning, small-batch artisan chocolate company following an 18-year career with the National Geographic Society as an editor and photographer. I love the way Taylor is so true to the bean and makes the unique nuances of each varietal of cacao he works with shine through to create his own recipe for remarkable chocolate.
Also located in Beautiful British Columbia is Wild Mountain Chocolate of Invermere, a tiny community of about 4,000 residents situated in the Rocky Mountain Trench of eastern BC. We attended the Invermere Farmers' and Artisan Market and were thrilled to meet Glen and Helen Davies, founders of Rocky Mountain Chocolate. If you're in the area this summer, you'll find Helen and Glen at the Wild Mountain Chocolate booth every Saturday until September 9th this year. You can also purchase online and take advantage of their free shipping offer.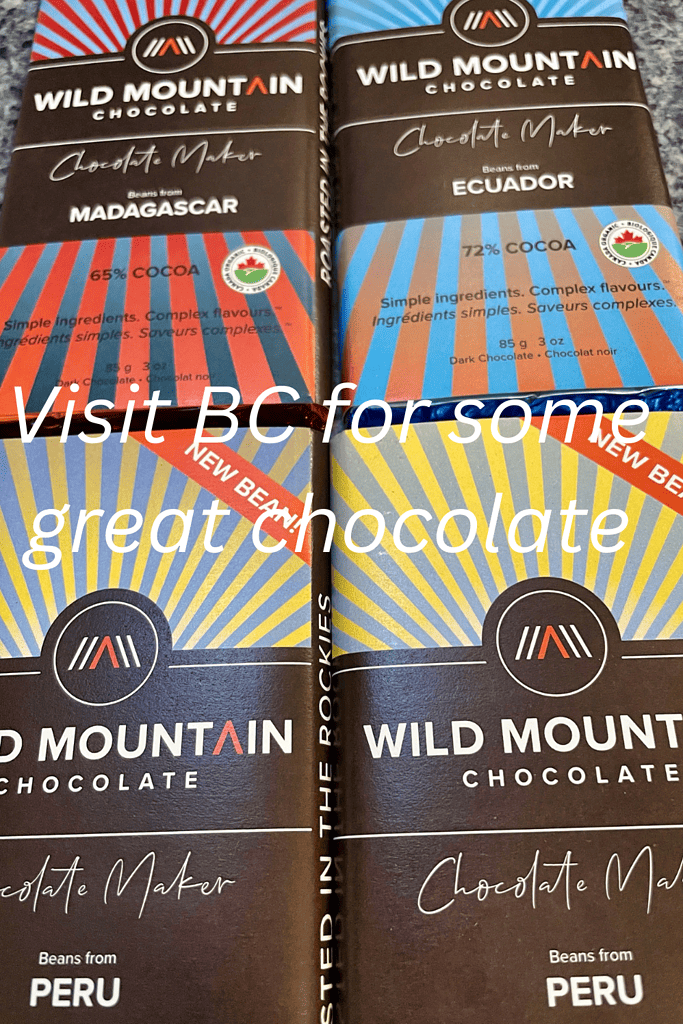 You'll also find a great selection of chocolate in Vancouver. Check out this post for more information about Vancouver chocolate and this post about chocolate in North Vancouver. British Columbia is not only a top tourist-worthy destination, it is an incredible place for chocolate lovers. ❤️
Please share/pin this post if you enjoyed it. And please leave us the name of your favourite BC chocolate in the comment thread below. Thanks!