women's cocoa cooperatives of the Dominican Republic
The Dominican Republic (DR) was ravaged by Hurricane Fiona in September, 2022, causing a devastating loss to 4,000 cacao farmers in the Hato Mayor and El Seibo regions of the island. There have been approximately 4,000 metric tonnes of cacao damaged by torrential rains in El Seibo alone. To help, The Learning Community International–a nonprofit K-12 educational organization and Foundation Pringamosa have teamed up with award-winning DR-based chocolatier SPAGnVola to help raise funds to help impoverished cacao-growing families. Click this link to support the fundraiser and know that your donations will help our beloved international chocolate community recover from yet another paralyzing natural disaster.
I was truly inspired by a visit to the women's cocoa cooperative in Vincentillo, a tiny village located in the province of El Seibo in the Dominican Republic. El Seibo is just east of the province of Hato Mayor where I was staying, and is not in close proximity to any tourist destinations. Yet, I was impressed with the progressive initiatives of this group, and wish to salute them in honour of International Women's Day.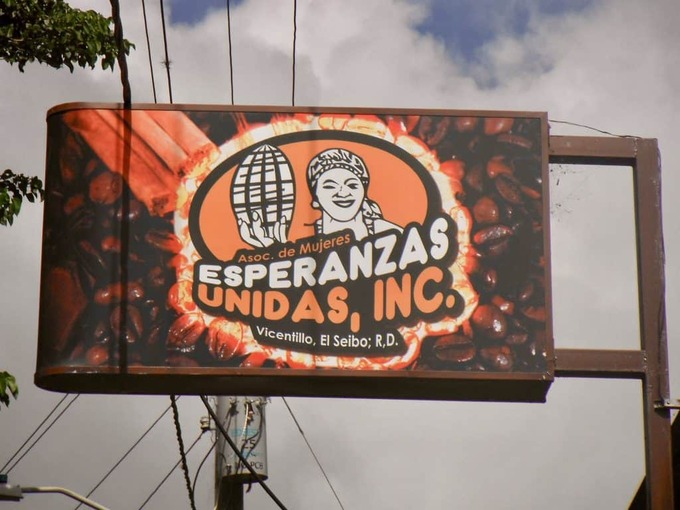 Meeting with the leaders of the Asociación de Mujures Esperanzas Unidas showed me how difficult it is to build your vision. You have to have a clear plan and follow the steps that will get you there.
learning about women's cocoa cooperatives
The group was formed in 1972, but there are only two or three of the original founders who are still active with the group today. Their membership high was 45. Today, there are 25 members. In 2013, the group received some government funding to help them grow. Slowly, their hard work is paying off and the group is optimistic about its future.
The goals of the Asociación de Mujures Esperanzas Unidas are:
to produce products that meet international and local standards.
to always be in production.
to have good clients.
to have an abundance of raw materials to work with.
to have the ability to process their own beans.
Currently, the cooperative only works with processed beans. They do not ferment or dry the beans, but they do roast and winnow them. In the photo below, one of the members of the cooperative shows us some recently winnowed cocoa beans that they will conch (grind) for 24 hours and then make into chocolate.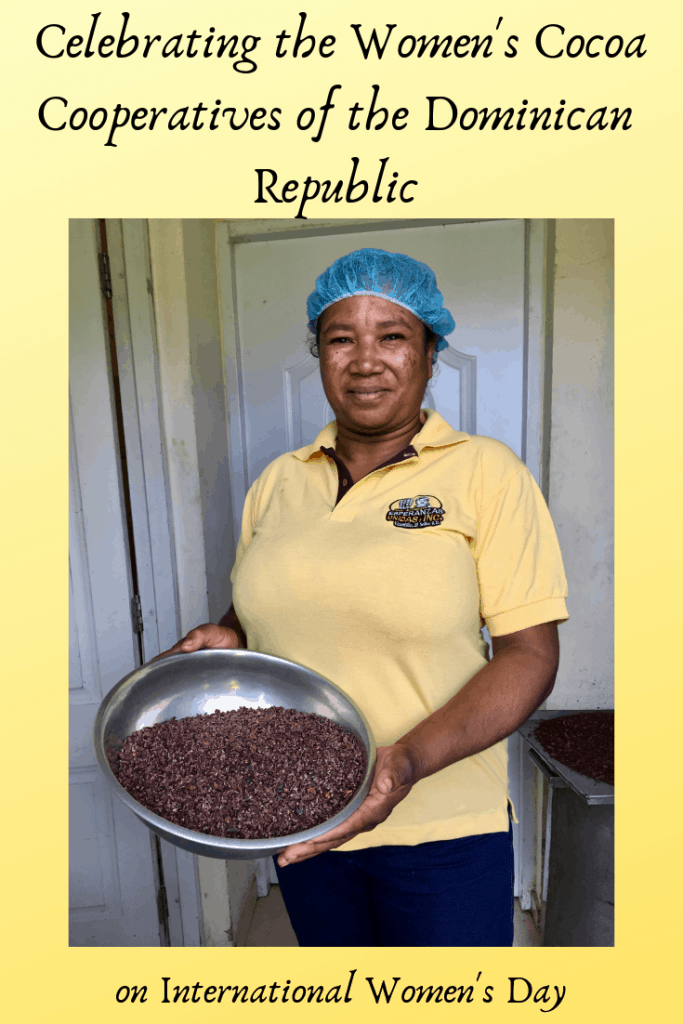 In addition to cacao-based products, the women's cocoa cooperative in El Siebo treats and distributes bottled water. This activity is an excellent income-generating stream for the group. El Siebo is an hour's drive from Hato Mayor and a 90-minute drive from Punta Cana. As you can see from the photo below, there had been a fair amount of rain prior to my visit and the road was washed out in places, so it not a drive for the faint of heart.
Another women's cocoa cooperative that is struggling, but moving forward is the Chocal group of Altamira (in the Puerto Plata region of the Dominican Republic.)
Chocal has a Spanish site at https://chocalaltamira.wordpress.com/el-origen-de-chocal/but my friend Donna Janke has an excellent post on her site about her visit to the women's cocoa cooperative as part of 'cruise voluntourism' activities offered by Fathom Travel.
The chocolate and cacao industry in the Dominican Republic is thriving, in part due to the efforts and guidance provided by the Comisión Nacional Del Cacao. I share their story in this post. I hope that re-sharing this collection of DR posts will encourage all chocolate lovers to lend their support to the farmers growing this top grade cacao used by award-winning chocolate makers around the world. Thanks in advance for your support.
SaveSave